Standard Horizon StitchLiner5500 saddle-stitching system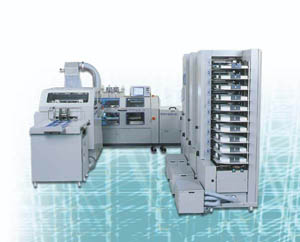 Combining the efficiency and ease of operation of flat sheet collating with the productivity, versatility and quality of a saddle-stitching system.
The StitchLiner5500 is a pioneering new concept for the demanding printing and publishing environments, bridging the gap between traditional collating and bookletmaking and conventional saddle binding lines.
The Horizon StitchLiner5500 is an innovative
saddle-stitching system which incorporates flat
sheet gathering, scoring, folding, stitching and
three-knife trimming in line.
The StitchLiner5500 provides user-friendly
operation, high productivity and versatility for
the on demand, production print, and trade
bindery environments.