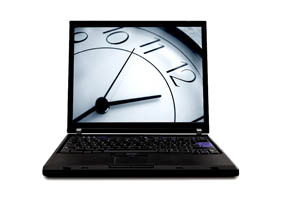 You know the problem. It's not just that you have less time for production, you also have less time for decisions. And the decisions you make have even broader effects on your company.
Western Graphics solves this problem by offering a full range of "on-demand" digital, high-tech offset printing and large format services to ensure that you get the most effective document solutions.
In effect, we help you find more time. More time for choosing the most productive solutions. More time for assuring that your jobs are done right. And more time for knowing that each document will be the right solution for the overall needs of your company.
Our mission at Western Graphics is to deliver print-on-demand documents and services that transcend deadlines and are ready when you are.
At Western Graphics, we produce over 160 million impressions and process over 12,000 print and fulfillment orders each year. Our advantage is that we have the ability to consistently meet the needs of time sensitive work and can handle a wide variety of unique one, two, four and six color projects. Our 50,000 square foot facility is conveniently located in the Midway area between St. Paul and Minneapolis.
PrePress Department
Epson Stylus Pro 9900 (3)

AGFA In-Line Plate Processor

Heidelberg Prinect PrintReady Workflow

Heidelberg Suprasetter CTP Computer-to-Plate

Mac Pro (6) & PC Workstations (6)
Digital Department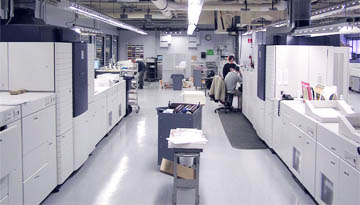 Digital Room:

Canon VarioPrint DP135, Digital Press with Saddle Stitching & Folding (2)

Canon VarioPrint UP6200, Ultra Digital Press with Saddle Stitching, Folding & Square-Back Binding.

Xerox Color 700 Digital Press with Advanced Inline Finishing
Press Department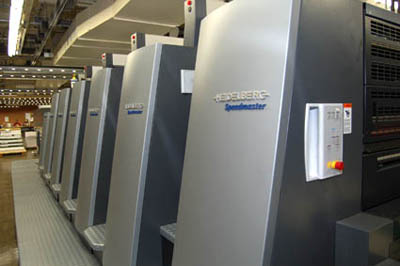 Press Room:

20 x 29 Heidelberg Speedmaster Perfector 74 5 color w/Aqueous

19 x 25 Heidelberg SORK 1 color

14 x 20 Heidelberg Speedmaster Perfector 52 2 color

12 x 18 Halm Super Jet Perfector 2 color (2)

12 x 18 Heidelberg Windmill
Large Format
Epson 64" SureColor S50670 Solvent Printer

Seiko 100" Color Painter Solvent Ink Color Inkjet Printer

EFI Vutek Press VU UV 200/600 SC

HP DesignJet Z6100 Wide Format Printer

Zund Precision Digital Die-Cutter
Bindery Department
Bell & Howell Mailstar 400 Inserter

Duplo DC10000S 30 bin Collator – stitch/fold/trim/stagger stack

Duplo DocuCutter DC645 Score/Perf/Slit

Duplo UV Document Coater

EPMS Inventory, Distribution and Fulfillment Software

Inkjet MCS ImagePro 800 w/Inline MCS Tabber

Laminator – 1.5 mil to 5 mil

MBO Automated B26-S/44 Perfection Folder with Stacker

DocuPunch MK2 Automatic Punch

Plastic Coil/Spiral Binding

Polar 115 LD 45" Programmable Paper Cutter (2)

Print Craft Diecutting/Scoring/Perfing Machine

Scott Tabcutter with Mylar Reinforcement

Stahl Folder 4/4/4

Sterling 5 Head Paper Drill (3)

StraPack Automatic Strapper

Texwrap Automated Shrinkwrap Packaging (2)

Twin Loop/Wire-o Binding

U.S. Paper Automated Batch Counter

WestNet Web to Print E-Commerce System